Bioenergetic-shen treatmen
t™
facilitates a return to the center of yourself – your true nature.

 
It is a tuning fork for the soul.
Reiki and Bioenergetic-shen® treatments deliver a life force energy (SHEN or CHI) along the energetic pathways of the body as a way to balance energy and promote healing, health, and happiness.  As a practitioner I assist the recipient in the clearing of personal energy blockages — our armor — that can prevent a person from living a more vital life. The focus of the treatment is to align or reconnect with the energy of the heart—to help a person feel their own living essence.
This experience is holistic in that it honors a person's unique life experience by embracing their "bellezza" — inner beauty — as a living being.
Besides facilitating overall health and well being, mind/body treatments have been known to relieve a variety of physical and emotional symptoms brought on by everyday stress as well as traumatic life-events. Because the treatments are personalized to address life conditions, results are as unique as each individual.
Because you have a right to wellness, we invite you to experience the benefits of mind/body treatments.
Treatment for:
STRESS RELIEF
GRIEF/SORROW
HEADACHE/MIGRAINE
INSOMNIA
ANXIETY/PANIC ATTACKS
GENERAL REBALANCING/
BODY EQUILIBRIUM

Offering REIKI and BIOENERGETIC-SHEN® TREATMENTS in Rutland, Vermont and Latham, New York.
You are caring and knowledgeable, both of which helped me feel comfortable and trusting. I am so glad that you followed this path to help others. You are a gift.
That felt like a homecoming, in a powerful, yet quiet way.
"Listen to my heart, it is for this that I was born." When we listen to our hearts, we are home in Love.
Now offering COURSE-BASED HEALING, with the principles of A Course in Miracles, online and in person.
I was just smiling in reflection of our healing circle on Monday, and thought I would reach out to share that love.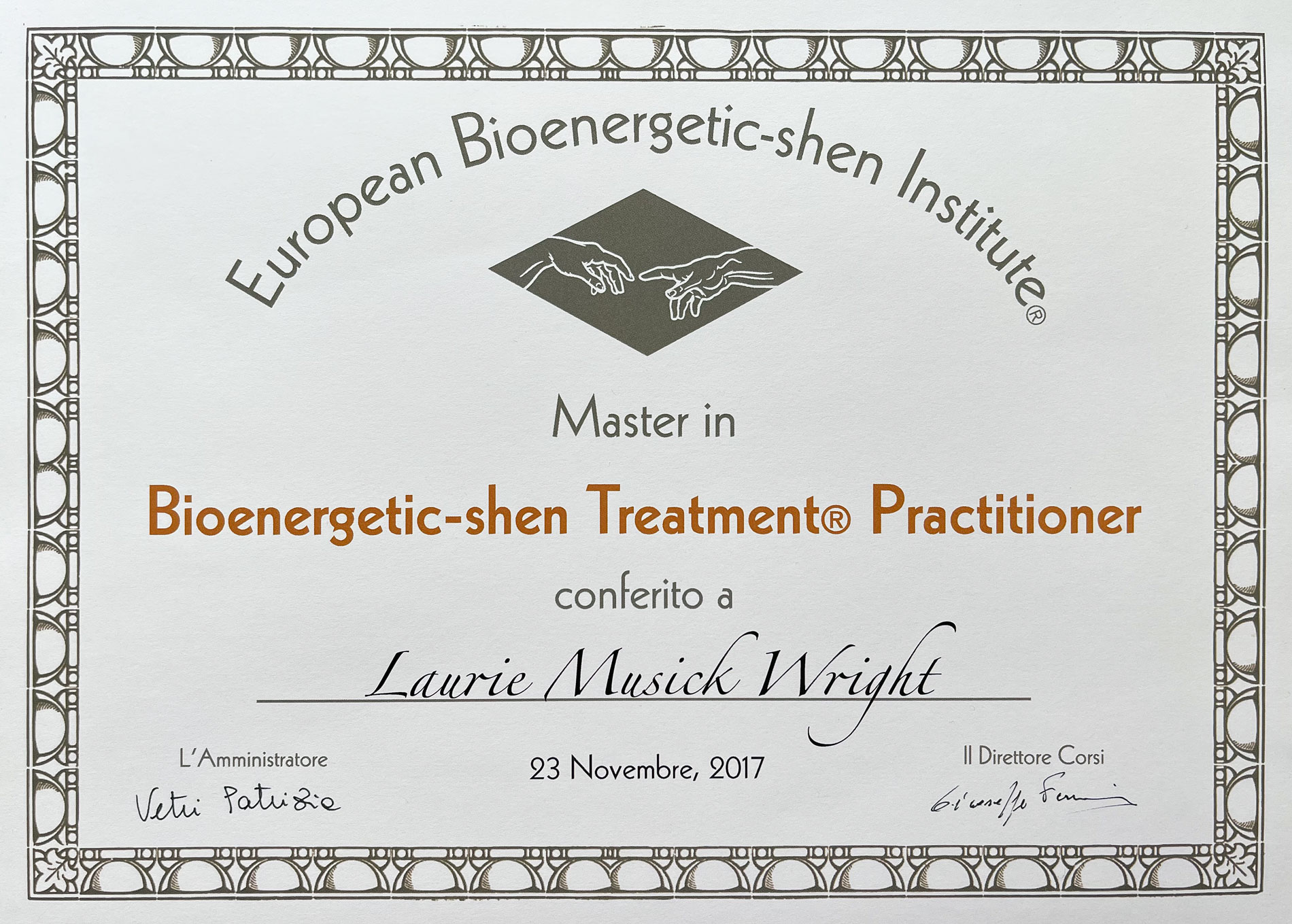 The final achievement in Bioenergetic-shen Treatment training, the master certificate received from Founder, Dr. Pino Feroni. 
Right to Wellness is available by appointment only. You may schedule appointments directly with Certified Master Practitioner, Laurie Musick Wright.