Offering REIKI and BIOENERGETIC-SHEN® TREATMENTS in Rutland, Vermont and Latham, New York.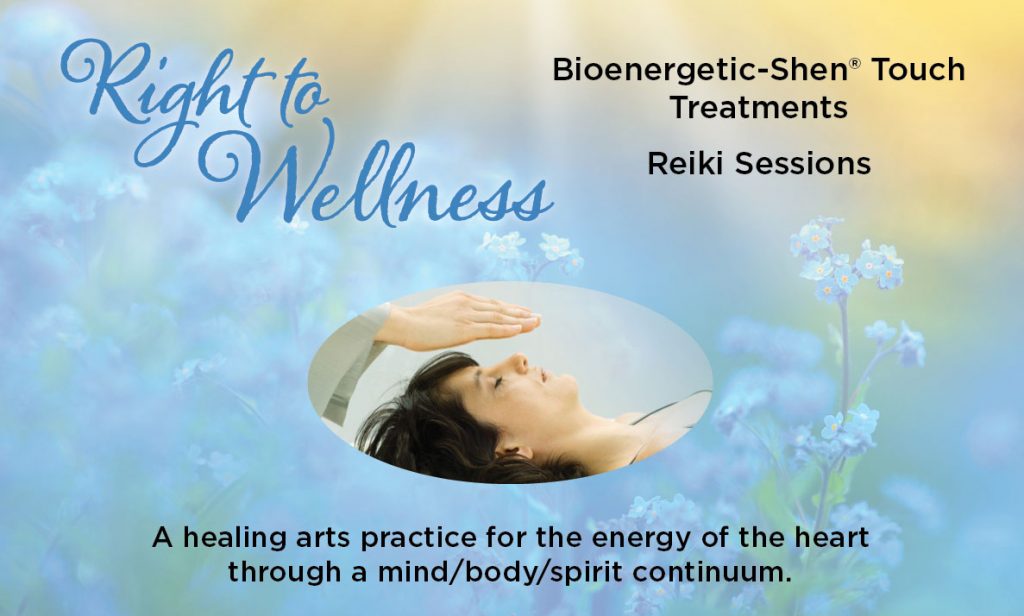 Reiki and Bioenergetic-shen® touch treatments deliver a life force energy (SHEN or CHI) along the energetic pathways of the body as a way to balance energy and promote healing, health, and happiness. As a practitioner I assist the recipient in the clearing of personal energy blockages — our armor — that can prevent a person from living a more vital life. The focus of the treatment is to align or reconnect with the energy of the heart—to help a person feel their own living essence. This experience is holistic in that it honors a person's unique life experience by embracing their "bellezza" — inner beauty — as a living being.
Besides facilitating overall health and well being, mind/body treatments have been known to relieve a variety of physical and emotional symptoms brought on by everyday stress as well as traumatic life-events. Because the treatments are personalized to address life conditions, results are as unique as each individual.
Because you have a right to wellness, we invite you to experience the benefits of mind/body treatments.
More about the treatment
The goal of Bioenergetic-shen® Treatment is to bring about optimum joy in daily living.
This hands-on body work strives to restore mind-body-spirit balance, to bring it back to a great feeling of relaxation and general well-being. Through the Bioenergetic-shen Treatment, a loving feeling is transmitted to body, heart, and mind, allowing the receiver to rediscover balance and serenity.
Proven to release chronic physical tension, the delivery of Bioenergetic-shen Treatment affects the body's vibrational energy—raising awareness of a person's emotional challenges and the protective armour created by their life experience.
By softening the armour through energetic flow we nourish the heart with the purpose of being more joyful. We are able to feel more deeply our truth and to be more fully present in our lives. Bioenergetic-shen Treatment is a very deep way to self-care. When we care for ourselves we can genuinely care for others.
Private treatments with a certified Bioenergetic-shen® Practitioner allow for in-depth self-discovery. An initial confidential discussion of how a person is feeling, facilitates an awareness for both recipient and practitioner. This is followed by 30-35 minutes of hands-on bodywork where the practitioner delivers firm yet nurturing movements on the body's energetic pathways, focusing on the energy of the heart.
When the heart is open a person can reconnect with their core creative self and enjoy a more fulfilling heart-felt, purposeful existence.