ANNOUNCEMENT:  Due to the sale of our building at 19 West Street in Rutland, VT, the Right to Wellness Center has transformed into "Right to Wellness."  Individual practitioners from the center are now providing treatments at various locations in the Rutland community.
NOW OFFERING: BIOENERGETIC-SHEN® TREATMENTS AND REIKI SESSIONS AT FIVE ELEMENTS SALON & DAY SPA located at 10 STRATTON ROAD in Rutland, Vermont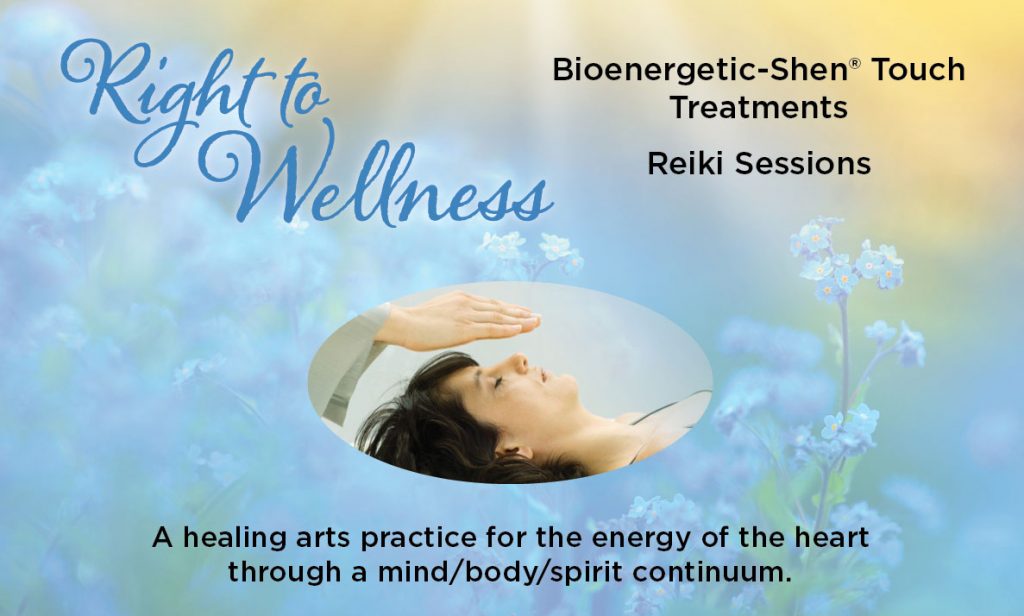 Reiki and Bioenergetic-shen® touch treatments deliver a life force energy (SHEN or CHI) along the energetic pathways of the body as a way to balance energy and promote healing, health, and happiness.  As a practitioner I assist the recipient in the clearing of personal energy blockages — our armor — that can prevent a person from living a more vital life. The focus of the treatment is to align or reconnect with the energy of the heart—to help a person feel their own living essence. This experience is holistic in that it honors a person's unique life experience by embracing their "bellezza" — inner beauty — as a living being.
Besides facilitating overall health and well being, mind/body treatments have been known to relieve a variety of physical and emotional symptoms brought on by everyday stress as well as traumatic life-events. Because the treatments are personalized to address life conditions, results are as unique as each individual.
Because you have a right to wellness, we invite you to experience the benefits of mind/body treatments.
TO SCHEDULE AN APPOINTMENT
Right to Wellness is available by appointment only. You may schedule appointments directly with Laurie Musick Wright. Meet Laurie by clicking on her name and learn more about her unique healing arts specialties.
Long Distance Energy Sessions are offered upon request. If you or someone you know can benefit from focused long distance healing energy, click here to learn more.